The Screen print illustrated was selected for an exhibition at the ASWARA Gallery, National Arts & Heritage Academy (ASWARA), Kuala Lumpur, MALAYSIA during February 1 – 29 2012 and is now part of their private collection.
Prints dispatched will be similar to the one illustrated – each print is original so variations of size (approximately A3) and colouring will occur. Each print will be signed by the artist Peter Bright (aka This Window). Screen print over ink wash. Cost (postage free) £15.00
Ink wash painting developed in China during the Tang Dynasty (618-907). Wang Wei is generally credited as the painter who applied color to existing ink wash paintings. The art was further developed into a more polished style during the Song Dynasty (960-1279). It was introduced to Korea shortly after China's discovery of the ink.
Old images and ideas revisited and recycled – re-executed in print and paint. A body of work based around "Beauty and the Beast" a classic tale of love, rejection and prejudice, where the beauty is the beast and the beast is the beauty. An allegory, a symbolic representation or a metaphor for my feelings towards ART. Press cutting below about similar works. (click on image to read article)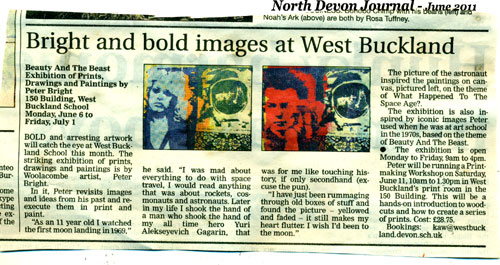 The spirit of punk should be revitalized in this prescriptive, common script, widget, cut and paste web design world. Isn't is about time we forgot the paste bit and cut and rip the internet into shreds and create an adrenaline fueled, chaotic explosion. I think what I'm trying to say is The Internet Has Just Got Very Boring! It is time for Anarchy in the web design world – my clients are asking me to create something different…..
Contact us for a FREE quote
Related articles