Mail Art invented social networks: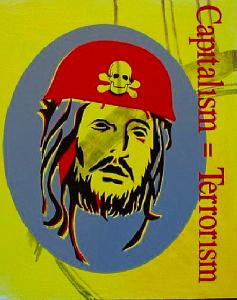 Mail art is a worldwide art and music movement that began in the early 1960s. the principle is simple you send
visual art
(but also music, sound art, poetry, etc.) through the international
postal system
.
Mail Art
is sometimes known as
Postal
Art or Correspondence Art. Mail Art is a network, based on the principles of barter and equal one-to-one collaboration.
After a peak in popularity in the late 1980s and early 1990s, the Mail Art phenomenon has gradually migrated to the Internet, whose "social networks" were largely anticipated and predicted by the interactive processes of postal collaborations. Nevertheless, Mail Art is still practiced by a loose planetary community involving thousands of mail artists from the most varied backgrounds.
See This Window the pseudonym of Peter Bright.
I will mail you a postcard of an image that was exhibited recently in an exhibition of mine. I have always loved the idea of Mail Art – the forerunner of the Internet! Mail art is a worldwide network… Continue reading →
Using established networks can be an important way to achieve growth in small, medium and large businesses. If you get it right the flood gates will open and visitors will come flooding in! Sales will increase and your profile will soar. It is important that a robust strategy is created for a network sales campaign to succeed, achieve this and you will create a formidable and powerful tool.
We are all now all very aware that the success of a website depends on a myriad of variable factors. One stratagem employed by Optimizers is to 'sell the brand' via social networking sites. One of the main distributors is Twitter – if you already have an account you will be aware that the posts placed are 99% twitter shit. There are however more niche networking sites.
Read more…
Contact us for a FREE quote
We can write great content for your website
We can guide you through the conception, birth pangs and sustainability of your web presence, we can create content for your website that can help you sell your products or services, we can optimize your site for search engines and submit them to the major players. We use a combination of automated and human processes to help you towards achieving world domination.
We can help you get into the blog charts, see below:
MorgueGallery.com has been in the top 5 blogs for Arts in the Technorati.com charts and the top 100 for Living during 2011. Morgue Gallery is an online art store where you can buy original paintings and prints … Continue reading
Contact us for a FREE quote